Room To Spare: The Bristol's Bonus Room
Posted by: Mira Roberts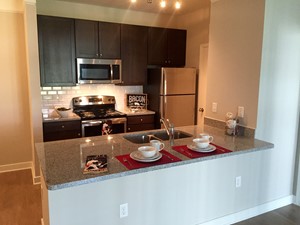 The two bedroom Bristol floorplan is one of our best kept secrets at Commonwealth at York, and not just because of its contemporary, functional layout and unending amounts of storage space. The two bedrooms inside the Bristol come with the bonus of an additional, flex room, designed to give you more space for everything you need at home, and all for the price of a traditional 2 bedroom.
Whether you work from home, have a craft habit or need a spare bedroom for your friends and family to enjoy while visiting, the flex room in the Bristol is a perfect, comfortable solution. Designed with an adjoining closet, and tucked carefully into the front corner of your apartment, the flex room has enough storage and space to be whatever you need it to be.
If you've always wanted an extra room for watching movies and TV, to workout in or simply to house your sports memorabilia, the flex room easily morphs into a den, personal fitness studio or man cave, and without having to cost you extra money in rent (winning!). Here are a few ways that we recommend you put the flex room to great use after you sign your lease. Now renting for $1459- $1499, you'll want to act fast and choose the Bristol now before all available units are gone.
Spare Bedroom
Convert your flex room into a spare bedroom so that out of town guests can rest comfortably when they visit. You can still use the adjoining closet to house your holiday decorations, summer accessories or childhood memorabilia, while creating a cozy and relaxed space for your friends and family to enjoy.
Den
Not everyone wants their living room to turn into the television hot spot, and if you like to sit and relax in your big, bright living space without technology or gadgets, you can make it happen in the Bristol. Move a cozy couch, some lamps, a coffee table and your flat screen TV to the flex room, and enjoy movie nights and your favorite shows tucked away in your den. Your living room can remain a place for you to relax with music, friends and a good glass of wine, without noise from a blaring TV set.
Craft Room
Crafty folks know that creating requires space for both your materials and your work. Turn your flex room into a craft room, and store your craft materials in the adjoining closet or in shelves you place against the walls. Decorate the room with inspirational items that help to bring out your creativity, and make a quiet space for you to create and craft anytime you please.
Workout Room
While you'll always have access to our state-of-the-art, 24 hour fitness studio, we know that some fitness buffs and yoga enthusiasts like to practice in the privacy of their own home. Turn your spare room into your very own studio for lifting, running, stretching and sweating. Hang a flat screen TV on the wall to watch while you workout, or invest in a bluetooth speaker for your phone, so you can sweat to your favorite songs. Store additional equipment easily in the adjoining closet, build shelves to hold fitness accessories and carve out one side of the room for cooling down and catching your breath.
Man (or Woman) Cave
For folks who need to retreat to a cave filled with their favorite relics, personal TV and requisite Lazy Boy chair, the flex room makes the perfect space. Fill the room with furniture that your better half won't allow in the living room or bedroom, and enjoy letting your spirit free in a room designed to house your stuff and your need for your own space. We get it.
Home Office
If you work from home, you know that working from your couch can get old, fast-especially when you need to stay organized and alert. Convert your spacious flex room into a home office, designed to help you keep your files organized and your brain sharp. You can easily fit a desk (or even two desks for couples who work from home), file cabinets and a shelf. Add in a comfortable couch and coffee table so you can take relaxed conference calls in the afternoon. Store file cabinets, additional paperwork or supplies in the adjoining closet, hang plants from the ceiling and open up the big, bright windows to let the light in on your clean, relaxed space for getting it done!