High Standards Lead To Immediate Success For Commonwealth At York
Posted by: Mira Roberts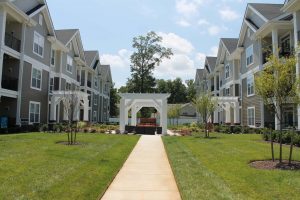 After almost 50 years in the residential development and management business, we've seen the highs and lows that come with leasing apartment homes in a changing market. We've learned that while tastes and the economy certainly change, people's desire to come home to functional design, ultimate comfort and complete quality does not. In fact, when it comes to leasing any of our suite of apartment communities, sticking with high standards first and always has proven to be the formula for achieving success, again and again.
Quality construction, impeccable design and the most central location on the Peninsula have made Commonwealth at York an obvious choice for discerning renters. Commonwealth at York's overwhelming and instant success point directly to our standards as developers and managers. The market responds to quality products, and Commonwealth is the ultimate in quality.
Commonwealth at York officially opened its doors in December 2015, in the middle of a busy holiday season. While most developers and management companies would cringe at the thought of leasing apartments in the middle of the holidays and the stone cold winter, our team embraced the challenge with confidence. We knew our stylish and spacious apartment homes were meticulously constructed and designed, and that our community featured some of the most high-end, luxurious amenities in the entire region.
By the end of February, Commonwealth had 120 signed leases under its belt, and by the end of April, nearly 50% of the property will be leased. Our new residents are already raving about their new homes and their vibrant, new community. We're filling up faster than our prospects can keep up with, and expect to be entirely leased by the end of Summer 2016.
If chic design, quality construction and a prime location are priorities for you when searching for your new home, then you'll want to schedule a tour  of Commonwealth at York, now. We're leasing faster than the market said we would, because we stick with what we know best, time and time again: High Standards.