Get Outside: Best Outdoor Spaces In Newport News And York County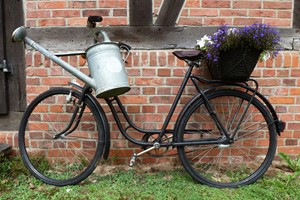 Living in Coastal Virginia means having the best of both worlds: convenient, direct access to vibrant city life, and close proximity to abundant outdoor spaces and coastal landscapes. In winter, we celebrate the season by cozying up indoors at our favorite, local restaurants and entertainment venues, or exploring the area's best shopping malls and local boutiques. When spring arrives, though, it's time to get back outdoors, and take advantage of the beautiful, natural landscapes that surround us.
If you're ready to get outside and seek out adventure in one of the many nearby outdoor parks or beaches, you're in good luck. We're just a short drive from some of the best outdoor spaces in both Newport News and York County, and kids and pets are often welcome to come along.
Give yourself the gift of the great outdoors this season, and explore one of the area's parks, beaches or pristine waterfront settings with your friends, family or pups. You'll have a new park to visit every weekend when you use our list of best outdoor spaces in Newport News and York County. Happy Exploring!
Huntington Park Beach
Located at the base of the James River Bridge in Newport News, Huntington Park features a 14,000 square foot playground, public boat ramps, fishing pier and a public beach for swimming and sunbathing. This park is also home to the War Museum, so bring along your family members for education and exercise.
Newport News Park
This 7,711 acre park is one of the largest municipal parks east of the Mississippi. A natural setting filled with wildlife, lush meadows and gleaming lakes and beautiful woodlands, this park is perfect for camping, hiking and nature exploring.
Victory Landing Park
Located in downtown Newport News, this 5.44 acre park features sweeping views of the James River and lush green spaces for sprawling out with a picnic, frisbee, family, friends and fun.
King Lincoln Park
Located along the shore of the Hampton River, this 18 acre park features a natural beach, basketball courts, playgrounds, picnic areas, tennis courts and a stage. Perfect for sports enthusiasts and those who like to lounge along the water, you can pack up the whole family for the day at King Lincoln.
Kiln Creek Park
Located in Yorktown, VA, this 21 acre park features a lighted soccer field, baseball field, basketball courts, playgrounds, a picnic shelter and convenient, on site parking for more than 130 cars. Often used for little league during the spring, summer and fall, you'll want to check their schedule to see when games are in session.
Wolf Trap Park
Located in Yorktown, VA, Wolf Trap is comprised of 28 acres featuring 4 soccer fields, 2 ponds and a memorial site. When you want to take the family out for outdoor sports and exercise, Wolf Trap is your spot.
Yorktown Waterfront
The Yorktown Waterfront is the perfect spot for hikers, bikers, runners, walkers, kayakers and beach lovers. The one mile pedestrian walkway along Historic Yorktown's Riverwalk is perfect for a relaxed stroll or walk, while the 2 acre beach is a perfect place to plop down and soak up sun, search for shells and build sand castles.
Back Creek Park
Located in Yorktown, VA, Back Creek Park is perfect for playing tennis, packing a picnic, kayaking or boating. Bring the entire family for outdoor fun along the waterfront, and stay for a meal cooked on their community grills.