Dog-Friendly Activities In Newport News
Posted by: Mira Roberts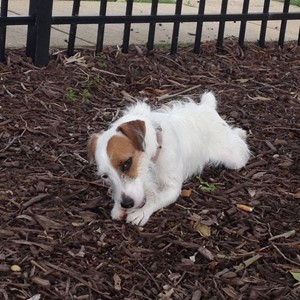 Your four-legged friend is your family, and when you have time off, you want to get out and enjoy your free time together, exploring your awesome neighborhood, chasing outdoor adventures and kicking back with a cool drink and a warm meal. Newport News is an especially dog-friendly city, with dog parks, hiking trails, historic landmarks and charming restaurants accessible and welcoming to both you and your furry sidekick.
When the weather is right, head outdoors with your best friend on-leash for spectacular waterviews, freshly brewed coffee, a picnic lunch, historical re-enactments and a solid, sweaty hike through the area's preserved, natural landscapes. If Fido needs to run free, off-leash and make new friends, visit our community dog park, or venture out to the area's first public dog park for fresh surroundings and a relaxed, laid-back vibe at Fido Field Dog Park.
You can go far or stay close to home with enough dog-friendly activities to keep you and your best friend busy throughout the season, and all year long. Make a date with your four-legged friend and bring the family along to any one of these dog-friendly activities in Newport News.
Run Off-Leash
We know your furry sidekick needs to let loose and run free in order to stay healthy and feeling his best! When you need to take Fido off-leash for play, social time and a good, full out sprint, you can make use of our spacious and beautiful, community bark park. When you want a change of space and the chance to meet new dog friends, you're just around the corner from one of the area's best dog parks: Fido Field Dog Park in Riverview Farm Park. Fido Field features one acre of fenced in territory for large dogs, and 1/8th acre of fenced territory for small dogs, as well as covered benches, water fountains for dogs and owners and convenient wheelchair access.  
Plan a Picnic
Spend your next lazy Saturday afternoon overlooking the waterfront in Newport News at King-Lincoln Park, and pack a picnic to enjoy with your pup and your family. King-Lincoln Park is an 18 acre, beautiful park with spectacular views and a relaxed, dog-friendly vibe that your whole family will enjoy. The park features a natural beach, basketball courts, playgrounds, a stage, three picnic shelters, restrooms, and tennis courts.
Explore History
History buffs will enjoy putting their pups on-leash to head out and explore American History at nearby, historic Endview Plantation. This 18th century plantation was built in 1769 and served as a Confederate Hospital in the 1850s. Featuring acres of preserved landscapes, Georgian-style architecture, re-enactments and educational opportunities abounding, you and your pup will enjoy exploring and learning, all day long.
Hike the Trails
Place your pup on-leash and prepare for adventure in the great outdoors at Newport New Park, filled with spectacular hiking trails, camping and boating opportunities. Featuring a wide expanse of green space, playgrounds for kids, abundant camping space and beautiful picnic areas, you, your pup and your entire family will have a host of outdoor activities at your disposal and more than enough space to roam.
Grab a Scooby Snack
Aromas World Specialty Coffees & Gourmet Bakery is family-friendly and pet-friendly, and features a wonderful selection of baked goods, fresh salads, soups, wraps, dinner items, breakfast items and coffee. Open 7 days a week and serving a delicious brunch menu on Sundays, you and your four-legged family member can kick back at Aromas nearly anytime during the week. When you and your pup need to escape the heat and grab a quick scooby snack or fresly brewed coffee, Aromas, in Newport News, is the laid-back, relaxed and comfortable choice for every member of your family.