5 Must-Have Essentials For Your New Apartment
Posted by: Mira Roberts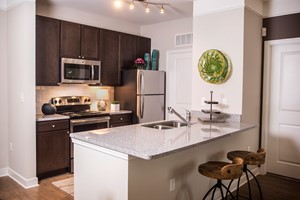 You've found your perfect apartment, and it's finally time to move in. Congratulations! Moving into a new apartment is exciting and stressful, requiring a lot of coordinating and organizing to help your process go smoothly. Whether it's your first move to an apartment or your fifth, it's easy to get caught up in the details of your move and forget to stock your new home with the essentials you need to live and thrive.
Making sure to stock up on a basic list of cleaning supplies will help you to move in and get to work right away, making your apartment look and feel just the way you like it. If you ensure that you bring necessary kitchenware and food with you to your move-in, you'll be able to unpack and whip up a home-cooked meal in your brand new, gourmet kitchen. Bathroom toiletries are a must-have, no matter where you live, and keeping a functional and basic toolbox on hand at home will help you to do simple projects like hanging artwork with ease!
Here are 5 must-have essentials we recommend you stock up on before you move in to your brand new, beautiful apartment in York County, VA.
Cleaning Supplies
If you're like us, and like to keep your home spic and span, you'll want to move in and tidy up right away. Making sure to keep the necessary cleaning supplies on hand will make it easy for you to unpack and get right to work. We recommend:
Broom & Dustpan

Mop & Bucket

Antibacterial Wipes

Sponges

Trash bags

Rags and cloth wipes

Window & Glass Cleaner

Toilet Bowl Cleaner & Brush

Bathroom Cleaner

Dusting Spray

Dustbuster

Paper Towels

Rubber gloves

Dish detergent

Laundry detergent
Kitchenware
Moving can be exhausting, and unpacking boxes, moving furniture around and getting settled can work up quite the appetite. Make sure you move in with the goods you need to whip up something delicious to fuel you up as you work.
Pots & Pans

Utensils

Plates & Bowls

Mugs & Glassware

Baking Sheet

Knives

Cutting Board

Cooking Utensils

Oven Mitts

Measuring cups

Trash Can
Bathroom Essentials
After a long day of moving, you're going to want to soak in a hot tub or take a long shower before resting for the night. Make sure you keep the items you need on hand so you can clean up and relax at the end of the day.
Shower Curtain & Liner

Shampoo, Conditioner, Soap

Towels, Bath Mat, Rugs

Toothbrush, Toothpaste and Toothbrush holders

Toilet Paper & Tissue

Small Trash Can
Basic Toolkit
You don't have to be handy to keep a toolkit on hand at home, and any renter should try to keep a few basic tools accessible to them in times of need.
Hammer and nails

Picture hanging materials

Screwdrivers with both heads

Pliers

Tape Measure

Pencils

Spackle & Putty Knife
Food
Let's face it, after a day or two of eating pizza and takeout, you're going to begin longing for a home-cooked meal, and that means staying stocked in a few items to help you cook and eat at home. Pick up the basics to get you through the day, and feed you through all three meals.
Bread

Butter

Peanut Butter

Eggs

Milk

Coffee

Creamer

Bagels

Cream Cheese

Lunch Meat

Lettuce

Bagged Salad & Dressing

Protein Bars

Fresh Fruit

Frozen Vegetables

Rice & Pasta Noodles

Spaghetti Sauce

Lean Meat or Fish

Cheese

Snack Food

Condiments