5 Important Design Tips For Apartment Renters
Posted by: Mira Roberts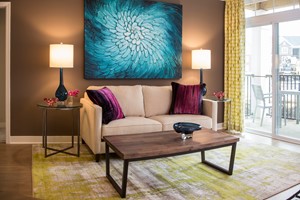 You're finally moved in to your beautiful, new apartment, and you're beginning to unpack, decorate and make your space your own. Before you go hammering into walls or constructing enormous shelving units, it's important to remember a few simple truths about decorating when you rent.
Being a renter comes with a host of great perks, including 24/7 maintenance (yes!), concierge services (double yes!), access to a luxury clubhouse, gorgeous pool, community bikes and more. When you rent, you do have to be mindful of how you treat your space so as not to damage your apartment or violate the rules of your lease agreement. To help you customize your home without worries, we've come up with a few important design tips that will help you to add your personal touch and design flare throughout your home with ease.
Whether you're on a budget, or planning to go all out, these tips will help to keep you focused and inspired as you get down to the business of turning your apartment into your home.
Add Color Without Painting Walls
Injecting color and texture into your home doesn't have to mean paint cans and hard work. Decide what colors you want to work with in your living room, bedrooms and bathrooms, and turn to furniture, linens, accent pillows, throws and artwork to help you realize your vision. Paint tables, dressers or chairs, cover furniture, or stock up on bold printed pillow covers. Hang large prints, artwork or framed photos to bring life to your bare walls. Your white space will come to life quickly once you've filled it with colors that inspire you and comfort you.
Plants Bring Your Space to Life (Literally)
Indoor plants are a wonderful investment and important design element, bringing literal life, color, texture and cleaner air into your home. Place floor plants strategically throughout your home to accent furniture and bring warmth into cooler areas. Hang plants on your patio or in your bedroom with decorative, hanging planters and create eye-catching art that lives! Choose indoor plants that don't require much sun, and if you don't have much of a green thumb, we recommend selecting plants that require as little maintenance as possible.
Treat Your Windows
Adding curtains to your windows will not only add color and texture to any room in your home, but it will also help you to keep the heat out in summer, and the cold out in winter. Whether you prefer heavy drapes or light, airy curtains, these are a simple and economical way to tie together just about any room. Look for easy-to-hang treatments at your nearby Bed, Bath & Beyond or even Target, and have your windows looking stylish and beautiful without spending a lot of money or time.
Furnish for Function and Fashion
You may be bringing existing furnishings with you to your new apartment, but if you're in the market to purchase new furniture, remember to shop for function AND fashion. You'll want your furniture to be versatile enough to move with you in the future (even if you do plan to stay forever!), and buying furniture with storage built into it makes packing away seasonal items simple and neat. Shy away from bulky couches, heavy coffee tables and enormous book shelves, and instead consider investing in lightweight items that give you room to move freely around your home.
Light the Way
A few floor and table lamps can work wonders in bringing in just the right ambiance to your new home, and with little work or investment. Shop for lamps that fit your overall design scheme and with multiple light settings, so you can go bright or dim, dependent upon your mood. If you already own a few old lamps, consider shopping for new lamp shades that match your new home and give your lamps a fresh start!